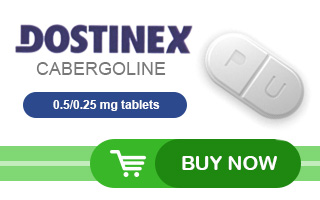 This medicine is used to prevent the onset of normal lactation.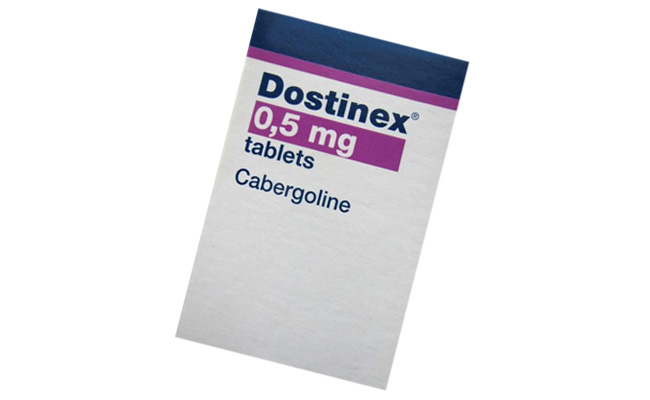 Packet of medicine Dostinex (cabergoline) tablets 0.5 mg
Composition of Dostinex:
The tablet contains cabergoline. The molecular weight is 451.62. It is a white colored powder and is dissolvable in chloroform, ethyl alcohol, and slightly dissolvable in 0.1N hydrochloric acid. It is very slightly soluble in n-hexane and insoluble in water. The tablets, for oral administration, contain 0.5 mg of cabergoline. The inactive ingredients consist of NF,leucine, USP, and lactose.
Uses of Dostinex:
It is used to treat medical problems that occur when too much prolactin is produced by the gland in the brain. This medicine can cause unwanted breast milk and missed periods in women. Similarly, it can result in enlarged breasts and decreased sexual desire in men.
Side- Effects of Dostinex:
Every medicine has a certain side effect of its own. The side effects cannot be seen in all the patients, however, it can trouble and bother some of the patients. If you have any serious side effects, then consult the doctor immediately.
Indigestion
Mild stomach pain
Nausea
Tiredness or weakness
Vomiting
Rash
Constipation
Dizziness
Burning
Stomach pain
Numbness
Headache
Shortness of breath
Hives
Itching
Back pain
Sudden unexplained weight gain
Behavior changes
Confusion
Decreased urination
Fainting
Hallucinations
Irregular heartbeat
Depression
Persistent cough
Severe or persistent dizziness
Vision changes
Contraindications of Dostinex:
Since this medicine has certain side effects, hence it is important to consult a doctor before using this medicine. You should not use this medicine if you are allergic to any ingredients of the medicine or high blood pressure. If you have heart valve problems or fibrotic disorders, then do not use this medicine. This medicine can interact with other medicines.If you are using any prescription, non-prescription or herbal product then share the same with the doctor. This medicine can interact with butyrophenone, metoclopramide, chlorpromazine or thioxanthene. Apart, from these if you have any allergies, please share the same with the doctor as well. This medicine can cause dizziness or drowsiness, hence it is imperative that the medicine is used with caution. Do not perform any unsafe task such as driving or using heavy machinery, until you deem yourself fit enough. One should not use alcohol while taking this medicine. The effects of this medicine in children is not known yet, hence extreme care should be taken while prescribing this medicine in children. If you have any signs of the side effects of this medicine, it is advisable to sit or lie down immediately.
Pregnancy and Dostinex:
There can be risks involved in using this medicine during pregnancy. Consult a doctor immediately if you think you are pregnant. It is not known yet if the medicine passes into the breast milk, however, it can affect the breast milk production. It is not recommended to breastfeed while using this medicine.