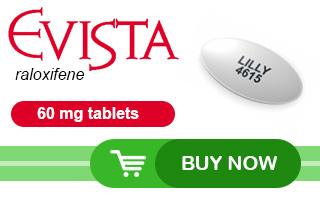 This medicine affects the bone formation and breakdown in our body. It also reduces loss of bone tissue. This medicine is not a cancer medication and does not treat breast cancer. It is not an estrogen hormone, however, acts like one for the bones. It makes the bones strong. It belongs to the class of drugs known as selective estrogen receptor modulators.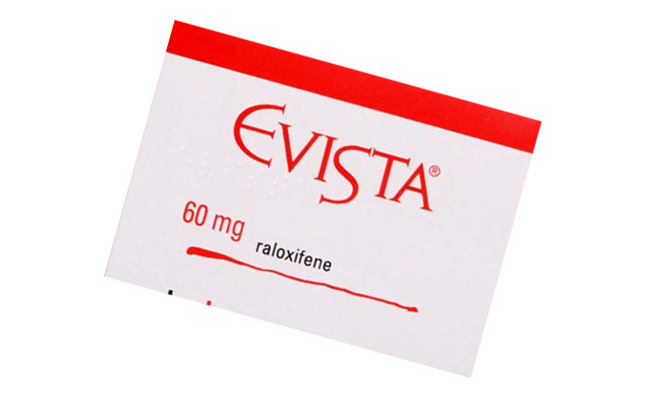 Packet of medicine Evista (raloxifene) tablets 100 mg
Brand Names
Optruma, Celvista, Estroact, Ralista, Biofem, Ciclotran, Ketidin, Loxifen, Oseofem, Raxeto.
Composition of Evista:
This medicine is an estrogen antagonist. The molecular weight is 510.05. It is an off-white to pale-yellow solid. It is very slightly soluble in water. The medicine is supplied in a tablet form for oral administration. Each tablet contains 60 mg of raloxifene HCl. The molar equivalent is 55.71 mg of free base. The inactive ingredients include FD&C Blue aluminum lake,povidone, propylene glycol, carnauba wax, hypromellose, lactose monohydrate, crospovidone,magnesium stearate, polysorbate,polyethylene glycol, anhydrous lactose, and titanium dioxide.
Uses of Evista:
This medicine is used by women to prevent and treat osteoporosis, especially after menopause. It may also lower the chance of getting certain types of breast cancer.
Side- Effects of Evista:
Evista can have certain side effects in patients. However, it may vary from patient to patient. If you have allergic reactions after using this medicine, then contact the doctor immediately and get immediate medical help. Also, stop using this medicine immediately.
Lumps in the breast
Sudden numbness
Coughing up blood
Weakness
Slurred speech
Problem with vision
Problem with balance
Wheezing
Hot flashes
Leg cramps
Joint pain
Sudden severe headache
Flu symptoms
Increased sweating
Contraindications of Evista:
There are certain precautions which need to be taken while using this medicine. It has been noted that this medicine can increase the risk of blood clotting in patients. If you had a blood clot before then do not use this medicine. The chances of stroke also increase manifold and can be fatal. If you have a history of heart disease, diabetes, overweight, smoking, high blood pressure, hysterectomy or high cholesterol, let the doctor know immediately as they increase the chances of stroke. Also, if you have gone through menopause or if you are using blood thinners, then let the doctor know immediately. If you are undergoing any surgery or if you will be on bed rest, then make sure that you stop taking the medicine at least 72 hours prior to the surgery or rest. Inform the doctor as well who will be operating you. If you use any other medicine such as prescription, non-prescription or herbal supplement, then share the same with the doctor so that they can minimize any chances of drug interactions. It is important that you follow the complete program of treatment which may include exercise, diet, weight control and vitamin D supplements.
Pregnancy and Evista:
The medicine can cause birth defects in an unborn baby, hence do not use this medicine if you are pregnant. Let the doctor know immediately if you are pregnant. It is not known if the medicine passes into the breast milk. It is advisable not to breastfeed while using this medicine.
Product Information
How Taken
Coming in tablet form, the recommended dosage is a 60 mg Evista. It can be taken once a day with or without food.
Missed Dose
Missing doses are not good. But if you have forgotten to take a tablet, take it aqs soon as you remember it. But if time for the next dosage, leave the missed one. Do not take double dosage.
More Information
If you take alcohol and smoke regularly, better discuss this with the doctor. You should also notify the doctor about taking Evista if you are planning for some surgery.
Warnings/Precautions
You have to discuss with the doctor all your medical conditions so that he could adjust the dosage accordingly. If having a history of stroke, heart attack and blood clot, your doctor should know it.
Evista comes in the FDA pregnancy category X. This means the drug has been found to be risky to the fetal. Well, it is better not to take the drug when pregnant or if you feel to conceive. Also do not breast feed when taking Evista as it s known that the drug passes into breast milk.