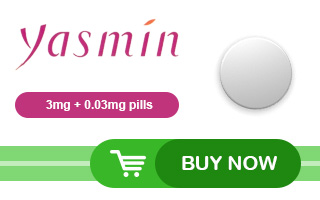 Yasmin is an oral contraceptive that is used for preventing pregnancy. It is made up of 2 key ingredients that is ethinylestradiol and drospirenone. It contains 28 film – coated tablets that are divided into 21 yellow and 7 white tablets.
Mechanism of action (MOA)
Yasmin have estrogen and progesterone that help in preventing pregnancy by making the mucus thick in the cervix which ultimately makes it harder for the sperm to penetrate the uterus and fertilize the eggs. It also helps by preventing the release of eggs for ovulation. It also helps in decreasing the pain during menstrual cycles also reduces the flow of blood therefore it is used for that too.
Uses of Yasmin
This drug is mainly used for preventing pregnancy. It makes the natural environment for conception unhealthy by thickening of mucus in the cervix.
Also it is used in birth control pills that help in maintain a regular menstrual cycle with less blood loss and painless periods.
Also decreases risk of ovarian cyst.
It helps in preventing acne when this pill is used as a contraceptive.
It is also used to treat premenstrual dysphoric disorder (PMDD).
Dosage and Administration
It is available in pill form therefore it is taken orally on the first day of menstrual cycle for 21 days. For 21 days yellow pill is taken through 22 day to 28 day white pill is taken. It can be taken with or without taking meals. The pill will not work for the 1 week of taking it therefore please use some other form of contraceptive for 1 week.
Side-Effects of Yasmin
Common side-effects
1) Nausea
2) Bloating
3) Breast tenderness
4) Weight change
5) Fluid retention
6) Headache
7) Abdominal pain
8) Stomach pain
9) Heavy bleeding
10) Weakness
11) Throbbing pain
12) Vomiting
13) Dizziness
14) Difficulty in breathing
15) Dark urine
Serious side-effects
1) Stroke
2) Pain in groin
3) Chest pain
4) Itching
5) Loss of appetite
6) Slurred speech
7) Rash
8) Unpleasant breath odour
9) Difficulty in walking
10) Blurred vision
11) Vomiting of blood
12) Shortness of breath(sob)
13) Fever with chills
14) Jaundice
15) Clay coloured stools
Precaution and Warning
Yasmin should be started 4 weeks after delivery also in women who are not breast feeding. Risk of thrombo-embolism is greater in women who already have some heart diseases. Stop the use of yasmin if there is unexplained loss of vision, diplopia, proptosis and papilloedema. Please consult your doctor with all the problems and diseases you already have then only take Yasmin.
Pregnancy and Breast-feeding
If pregnant please stop taking pills immediately and consult your doctor. Also it is not recommended during breast-feeding because it decreases the quantity of milk.
Drug Interaction
Some medicine break down the hormone levels in the body and therefore should not be taken with yasmin . Like carbamazepine, nevirapine, bosentan, Phenytoin, phenobarbitol.
Before taking any other medicine please talk to your doctor about the effectiveness.
yasmin without prescription